~How You Can Fight Human Trafficking: Over 50 Ways to Join the Fight~
If your heart has been broken by the stories of the victims and you have been asking yourself, "What can I do," then this book is exactly what you have been looking for. It is the product of close to 100 conversations with victims, Homeland Security, the police, community and faith leaders, NGO's, conference speakers, social services and people just like you who are working on this issue. In this groundbreaking book you will learn how to empower anyone, including yourself to join the fight against the cruel exploitation of children and adults. This 230 page book contains many resources, like where to find training manuals for professionals such as teachers, health professionals and attorneys. Human Trafficking is the fastest growing crime in the world. We need to take a stand and end it.
♒♒♒♒♒♒♒♒♒♒♒♒♒♒♒♒♒♒♒♒♒♒♒♒♒♒♒♒♒♒♒♒♒♒♒♒♒♒♒♒♒
~ PORNIFIED ~
Porn in America is everywhere—not just in cybersex and Playboy but in popular video games, advice columns, and reality television shows, and on the bestseller lists. Even more striking, as porn has become affordable, accessible, and anonymous, it has become increasingly acceptable—and a big part of the personal lives of many men and women. In this controversial and critically acclaimed book, Pamela Paul argues that as porn becomes more pervasive, it is destroying our marriages and families as well as distorting our children's ideas of sex and sexuality. Based on more than one hundred interviews and a nationally representative poll, Pornified exposes how porn has infiltrated our lives, from the wife agonizing over the late-night hours her husband spends on porn Web sites to the parents stunned to learn their twelve-year-old son has seen a hardcore porn film. Pornified is an insightful, shocking, and important investigation into the costs and consequences of pornography for our families and our culture.
♒♒♒♒♒♒♒♒♒♒♒♒♒♒♒♒♒♒♒♒♒♒♒♒♒♒♒♒♒♒♒♒♒♒♒♒♒♒♒♒♒
~ UP FROM SLAVERY ~
Up from Slavery chronicles over fifty years of Washington's life: from slave to schoolmaster to the face of southern race relations. In this text, Washington climbs the social ladder through hard, manual labor, a decent education, and relationships with great people. Throughout the text, he stresses the importance of education on the black population as a reasonable tactic to ease race relations in the South. The book is in essence Washington's traditional, non-confrontational message supported by the example of his life.
      ♒♒♒♒♒♒♒♒♒♒♒♒♒♒♒♒♒♒♒♒♒♒♒♒♒♒♒♒♒♒♒♒♒♒♒♒♒♒♒♒♒
~ RENTING LANCY ~
The average age of entry into prostitution in America is 13 years old. Forced into a life they never chose, manipulated, abused and tortured at the hands of the pimps who control them, our countrys children are sold on the streets, on the internet and at truck stops across America every night. They arent bad kids who made bad choices. They are victims of child sex trafficking. They come from our neighborhoods, our schools, our churches, and sometimes our own homes. Author Linda Smith brings to life characters based on real stories and interviews with teen survivors. Meet Lacy and Star as they reveal the underbelly of our country s commercial sex trade. Get to know the men who sell them, and the ones who buy them. Let Renting Lacy draw you into the lives of these young girls as they struggle to survive each night, watching their childhood hopes and dreams slip away in the darkness. Let it compel you to action. ♒♒♒♒♒♒♒♒♒♒♒♒♒♒♒♒♒♒♒♒♒♒♒♒♒♒♒♒♒♒♒♒♒♒♒♒♒♒♒♒♒
~ THE NATASHAS ~
On the black market, they're the third most profitable com- modity, after illegal weapons and drugs-the only difference being that these goods are human, though to their handlers they are wholly expendable. They are women and girls, some as young as 12, from all over the Eastern bloc, where sinister networks of organized crime have become entrenched in the aftermath of the collapse of Communist regimes. In Israel, they're called Natashas, whether they're actually from Russia, Bosnia, the Czech Republic, or Ukraine, no matter what their real names may be. They're lured into vans and onto airplanes with promises of jobs as waitresses, mod-els, nannies, dishwashers, maids, and dancers. But when they arrive at their destinations, they are stripped of their identifi-cation, and their nightmare begins. They are sold into pros-titution and kept enslaved; those who resist are beaten, raped, and sometimes killed as examples. They often have nowhere to turn; in many cases, the men who should be res- cuing them-from immigration officials to police officers and international peacekeepers-are among their aggressors. ♒♒♒♒♒♒♒♒♒♒♒♒♒♒♒♒♒♒♒♒♒♒♒♒♒♒♒♒♒♒♒♒♒♒♒♒♒♒♒♒♒
~ TERRIFY NO MORE ~
In a small village outside Phnom Penh, children as young as five are brought and sold as sex slaves.  Day after day their abuse continues, and their hope slips away. In Terrify No More an international team of investigators goes undercover to infiltrate this ring of brothels and gather evidence needed to free these girls.  Meanwhile, skilled legal minds race the clock, working at the highest levels of U.S. and foreign governments to bring the perpetrators to justice.  Headed up by former U.N. war-crimes investigator, Gary Haugen, the team perseveress against impossible obstacles–police corruption, death threats, and mission-thwarting tiip-offs–in a mission focused on bringing freedom to the victims. ♒♒♒♒♒♒♒♒♒♒♒♒♒♒♒♒♒♒♒♒♒♒♒♒♒♒♒♒♒♒♒♒♒♒♒♒♒♒♒♒♒
~ THE JOHNS ~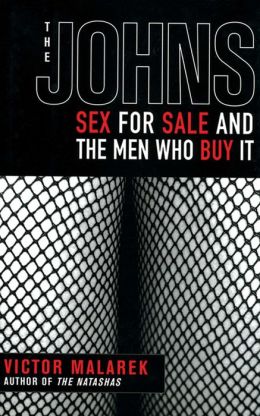 Following up on his scathing indictment of the international sexual enslavement of women, investigative journalist Victor Malarek turns the spotlight on the other side of the crisis — the men who fuel the demand. Each year more than 800,000 women and children are lured, tricked, or forced into prostitution to meet an apparently insatiable demand, joining an estimated 10 million women already ensnared in the $20 billion worldwide sex trade. While much research focuses on why these women end up in the trade, invetstigators have turned a blind eye toward the "johns" who trigger the demand — until now. In this hard-hitting exposé, Malarek unmasks the kind of men — and organizations — that drive the sex trade around the world. With interviews with both the unrepentant and the reformed, The Johns forces readers to rethink the world's oldest so-called profession. ♒♒♒♒♒♒♒♒♒♒♒♒♒♒♒♒♒♒♒♒♒♒♒♒♒♒♒♒♒♒♒♒♒♒♒♒♒♒♒♒♒
~ SOMEBODY'S DAUGHTER ~
In Somebody's Daughter: The Hidden Story of America's Prostituted Children and the Battle to Save Them, meet the girls who are fighting for their dignity, the cops who are trying to rescue them, and the community activists battling to protect the nation's most forsaken children. Author Julian Sher takes you behind the scenes to expose one of America's most underreported crimes: A girl from New Jersey gets arrested in Las Vegas and, at great risk to her own life, helps the FBI take down a million-dollar pimping empire. An abused teenager in Texas has the courage to take the stand in a grueling trial that sends her pimp away for 75 years. Survivors of the sex trade in New York, Phoenix, and Minneapolis set up shelters and rescue centers that offer young girls a chance to break free from the streets. "The sex trade is the new drug trade," says one FBI special agent, and Somebody's Daughteris a call to action, shining a light on America's dirty little secret. ♒♒♒♒♒♒♒♒♒♒♒♒♒♒♒♒♒♒♒♒♒♒♒♒♒♒♒♒♒♒♒♒♒♒♒♒♒♒♒♒♒
~ SEX TRAFFICKING INSIDE THE BUSINESS OF MODERN SLAVERY ~
In this book, Kara provides a riveting account of his journey into this unconscionable industry, sharing the moving stories of its victims and revealing the shocking conditions of their exploitation. He draws on his background in finance, economics, and law to provide the first ever business analysis of contemporary slavery worldwide, focusing on its most profitable and barbaric form: sex trafficking. Kara describes the local factors and global economic forces that gave rise to this and other forms of modern slavery over the past two decades and quantifies, for the first time, the size, growth, and profitability of each industry. Finally, he identifies the sectors of the sex trafficking industry that would be hardest hit by specifically designed interventions and recommends the specific legal, tactical, and policy measures that would target these vulnerable sectors and help to abolish this form of slavery, once and for all. ♒♒♒♒♒♒♒♒♒♒♒♒♒♒♒♒♒♒♒♒♒♒♒♒♒♒♒♒♒♒♒♒♒♒♒♒♒♒♒♒♒
~ RUNAWAY GIRL ~
Carissa Phelps was a runner. By the time she was twelve, she had run away from home, dropped out of school, and fled blindly into the arms of a brutal pimp. Even when she escaped him, she could not outrun the crushing inner pain of abuse, neglect, and abandonment. With little to hope for, she expected to end up in prison, or worse. But then her life was transformed through the unexpected kindness of a teacher and a counselor. Through small miracles, Carissa accomplished the unimaginable, graduating from UCLA with both a law degree and an MBA. She left the streets behind, yet found herself back, this time working to help homeless and at-risk youth discover their own paths to a better life. Like the multimillion-copy bestseller The Glass Castle, this memoir moves us through the power of its unflinching candor and generosity. ♒♒♒♒♒♒♒♒♒♒♒♒♒♒♒♒♒♒♒♒♒♒♒♒♒♒♒♒♒♒♒♒♒♒♒♒♒♒♒♒♒
~ A CRIME SO MONSTROUS ~
There are more slaves in the world today than at any time in history. After spending four years visiting a dozen countries where slavery flourishes, Skinner tells the story, in gripping narrative style, of individuals who live in slavery, those who have escaped from bondage, those who own or traffic in slaves, and the mixed political motives of those who seek to combat the crime. Skinner infiltrates trafficking networks and slave sales on five continents, exposing a modern flesh trade never before portrayed in such proximity. From mega-harems in Dubai to illicit brothels in Bucharest, from slave quarries in India to child markets in Haiti, he explores the underside of a world we scarcely recognize as our own and lays bare a parallel universe where human beings are bought, sold, used, and discarded. He travels from the White House to war zones and immerses us in the political and flesh-and-blood battles on the front lines of the unheralded new abolitionist movement. ♒♒♒♒♒♒♒♒♒♒♒♒♒♒♒♒♒♒♒♒♒♒♒♒♒♒♒♒♒♒♒♒♒♒♒♒♒♒♒♒♒
~ GIRLS LIKE US ~
"Powerfully raw, deeply moving, and utterly authentic. Rachel Lloyd has turned a personal atrocity into triumph and is nothing less than a true hero. . . . Never again will you look at young girls on the street as one of 'those' women—you will only see little girls that are girls just like us." —Demi Moore, actress and activist .
With the power and verity of First They Killed My Father and A Long Way Gone, Rachel Lloyd's riveting survivor story is the true tale of her hard-won escape from the commercial sex industry and her bold founding of GEMS, New York City's Girls Education and Mentoring Service, to help countless other young girls escape "the life." Lloyd's unflinchingly honest memoir is a powerful and unforgettable story of inhuman abuse, enduring hope, and the promise of redemption.
♒♒♒♒♒♒♒♒♒♒♒♒♒♒♒♒♒♒♒♒♒♒♒♒♒♒♒♒♒♒♒♒♒♒♒♒♒♒♒♒♒
~ THE SLAVE ACROSS THE STREET ~
In this powerful true story, Theresa Flores shares how her life as an All-American, blue-eyed, blond-haired 15-year-old teenager who could have been your neighbor was enslaved into the dangerous world of sex trafficking while living in an upper-middle class suburb of Detroit. Her story peels the cover off of this horrific criminal activity and gives dedicated activists as well as casual bystanders a glimpse into the underbelly of trafficking. And it all happened while living at home without her parents ever knowing about it. Involuntarily involved in a large underground criminal ring, Ms. Flores endured more as a child than most adults will ever face their entire lives.
In this book, Ms. Flores discusses how she healed the wounds of sexual servitude and offers advice to parents and professionals on preventing this from occurring again, educating and presenting significant facts on human trafficking in modern day American.
♒♒♒♒♒♒♒♒♒♒♒♒♒♒♒♒♒♒♒♒♒♒♒♒♒♒♒♒♒♒♒♒♒♒♒♒♒♒♒♒♒
 ~ A THOUSAND SISTERS ~

Lisa Shannon had what some would call a good life—her own business, a successful fiancé, a secure home. Then one day in 2005, shortly after her father's death, an episode of Oprah changed everything. The show about women in the Congo depicted atrocities too horrible to comprehend: millions dead, women gang-raped and tortured, children starving and dying in shocking numbers. That day Lisa woke up to her dissatisfaction with the "good" life and to her role as an activist and a sister.
♒♒♒♒♒♒♒♒♒♒♒♒♒♒♒♒♒♒♒♒♒♒♒♒♒♒♒♒♒♒♒♒♒♒♒♒♒♒♒♒♒