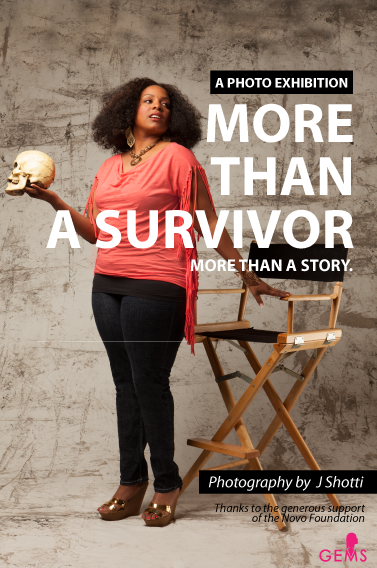 Event Description
Nola Brantley Speaks! and GEMS presents
More Than A Survivor: More Than A Story
Photo Exhibition Fundraiser Benefiting Journey Out
The More Than A Survivor: More Than A Story photography exhibition features a series of 22 stunning portraits of women from across the county who are all survivors of commercial sex trafficking and also leaders in a variety of venues from the arts to politics to science to the non-profit community and more. The exhibit honors their diversity, beauty, strength, accomplishments and leadership and celebrates their present and their future. The exhibition features three survivors from the state of California, more than any other state.
This special fundraising event, Thursday, April 14th from 5 to 9 pm will celebrate and support the work that has been done by Journey Out (formally The Mary Magdalene Project). Journey Out is a Los Angeles-based nonprofit that has been leading the fight to freedom through 35 years of service.
Please RSVP today and join us Thursday, April 14 from 5 to 9 pm. All proceeds from the event will benefit Journey Out as the organization continues to support victims and survivors of sex trafficking in Los Angeles.
Museum of Latin American Art (MOLAA) is located at 628 Alamitos Avenue, Long Beach, CA 90802
Host and Sponsors:
Office of Los Angeles County Supervisor Don Knabe, Los Angeles County Probation, Nola Brantley Speaks!, Journey Out and Abolitionist Mom.
WHEN

WHERE

Museum of Latin American Art (MOLAA) – 628 Alamitos Avenue, Long Beach, CA 90802 –View Map