Dance for Refuge: October 26, 2013
It's fall again, and time for another Ceilidh Dance to support our survivors!
–
When: October 26th, 2013
6pm-10pm
–
Where: Redeemer Church
15151 Cordova Road, La Mirada, California
–
At the Door: $20 per adult
Kids under 12: Free!
–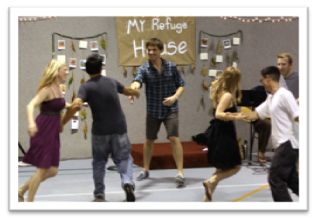 Details: The dance will be a Ceilidh (pronounced "kaylee"), a simple participatory Gaelic folk dance; the dances range from slow to fast and from partners to line to circle in formation; here is a video. No partner is necessary and no previous dancing skills are required as all of the dances are explained and practiced on the night of. There will be a live group of musicians playing fun, traditional tunes to dance to.
– For more info: Dance for Refuge: October 26, 2013
1,068 total views, 1 views today